More details will be added soon...
Every registered user, organisation and thing has a profile page to showcase associated certificates and other information.
Your personal profile is created as part of the registration process. You can reach it from your personal dashboard.
These are created either by a certificate being issued to one or by a user creating an organisation from the dashboard. You can reach your organisation's profile page from your organisation's dashboard.
An organisation profile has various sections, in which the type of content visible depends on whether you are viewing your own organisation or another.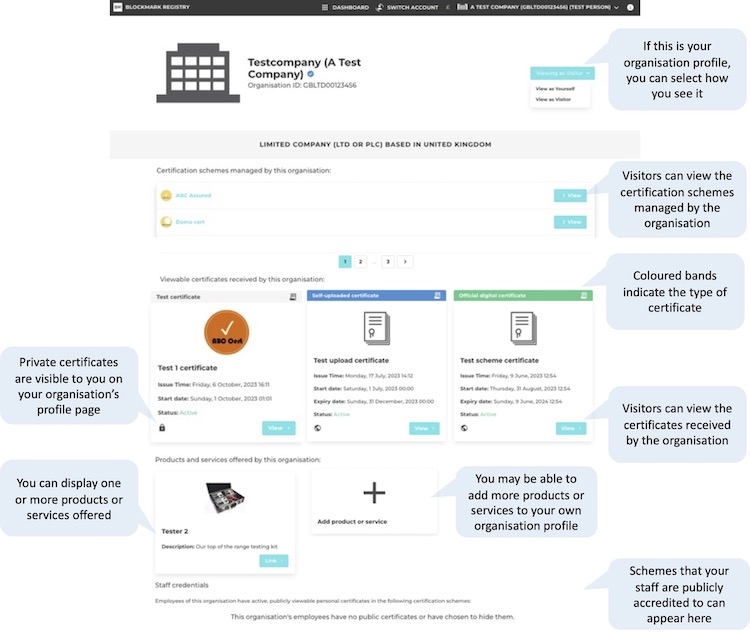 If you view the profile 'as yourself', you will see additional information based on your affiliation with the organisation and any associated permissions. For example, you'll see private certificates and the 'add product or service' button. You can also view 'as visitor' which will show you how others will see your profile.
If you are not viewing an organisation profile that you are associated with, then you will not have an option and will be viewing it as a visitor.
The organisation profile shows the organisation's logo, the organisation's name and trading name (if any), and the organisation's identification.
If the organisation has an admin/owner user registered on the platform, there will be a yellow person icon by the organisation name. This indicates the organisation profile has been adopted and is being managed. If the organisation has been successfully checked by us, the 'has owner' icon will be replaced by a blue tick.
If the organisation issues certificates, the first section lists their certification schemes. From here, visitors can explore the schemes in more detail by clicking through to respective scheme profile pages.
The next section lists the public certificates issued to the organisation. These are shown as summary cards with buttons to click through to the digital certificate page. The cards have coloured bands to highlight official digital certificates that have been issued from the platform (green), self-uploaded certificates of pdf evidence issued from elsewhere (blue) and test certificates (grey).
A third section shows any product or service cards relating to the organisation. These are designed to drive traffic to your own website through a link button.
The final section lists some staff credentials. These are shown as certification scheme cards derived from the public certificates held by the staff in your organisation account. There are additional settings to select relevant schemes to show. This section is a great way to showcase your organisation's capability through training and skills investment in your staff.
When a certificate is issued to a thing, a profile is created for it.