One of the sections on your organisation profile page can show the products and services that you offer.
These boxes or 'cards' are listed as shown in the example below with an appropriate image, name or title, brief description and link button.

It is recommended that you add one or more product and service cards to your organisation profile page to drive business to your own website. Having your certificates listed on the same page shows potential customers your accreditations and capabilities, giving them more confidence in the products and services that you offer.
If you already have a product & service card, you can add more by pressing the 'Add product or service button' next to your list on your organisation profile, as is shown to the right of the example above.
You can add your first card, as well as manage and add others, from your organisation settings page by pressing the 'Manage products and services' button.
This will show you a list of any cards you already have, and you can click the + at the top of the page to create a new one.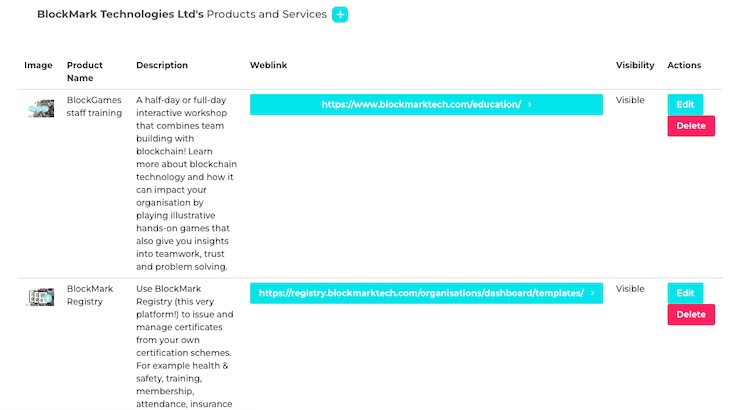 To create a new product and service card, fill in the table with a name or title, brief description and the web address of the relevant page on your website where potential customers can learn more. You can also upload a product image, otherwise our default image will be shown as a placeholder.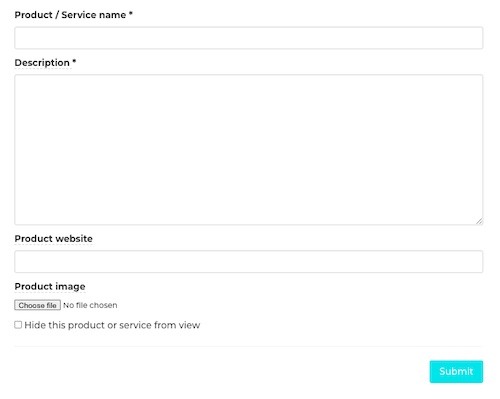 Existing cards can also be edited and deleted. If you want to temporarily hide a card, there is a box to tick on the card's edit page.
You can view your cards on your organisation profile page, reachable from your organisation's dashboard.
We do review the contents of product & service cards and reserve the right to hide or delete those we consider are inappropriate, offensive or voliate the terms and conditions of our platform.
In the future we plan to promote organisations, their certifications, as well as products & services more widely from the platform. By curating your organisation's profile page to include product & service cards, you could appear higher in search results and generate more business.